AmazonSmile

Shop on AmazonSmile for all the products that you would normally get on Amazon and our pantry receives .5%. Go to smile.amazon.com and sign in with your normal Amazon password or if you're new to Amazon, create an account. Choose High Plains Helping Hands, Inc. as your charity to support. Whenever you shop, be sure to do it through AmazonSmile so HPHH benefits with no extra cost to you!
Safeway and King Soopers Roloadable Cards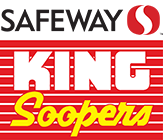 This is another easy way to help support the pantry with no extra cost to you, especially since you need to do grocery shopping! Simply purchase a special Safeway or King Soopers reloadable card, already loaded with $10, for $10 from our pantry. Whenever you reload the card with any amount prior to any purchase, HPHH receives 5% of the reload amount. Be sure to keep your card and reload each time prior to purchasing your groceries or gas. The instructions are provided with each card sold.
Albertsons Tags

Get a free Albertsons tag from our pantry, have it scanned each time you shop at any Albertsons, and our pantry receives 1% from your purchases.